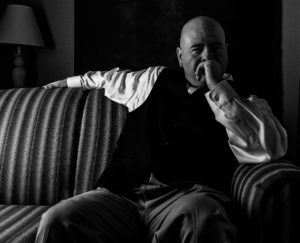 Johnny Martinez Jr is an international award winning photographer who takes pictures and takes himself way too seriously. Really, he won second place in a contest once that was open to United States, and Canadian photographers and suddenly he's an "International Award Winning Photographer". Sure he's taken photos since he was 15, has a Bachelors Degree in Photography, and has been shooting professionally for around 30 years, but c'mon, he's bald, and eats a ton of donuts, how serious a fellow can he be?
Truth be told, he loves this stuff. He breaths photography, and given the chance, will talk your ear off about it. When not shooting, or retouching images, he is reading, watching videos, and asking questions of anyone he thinks will help him be a  better human being. What this means to you is you will get a guy who really cares about creating the best images he can. He will bend over backwards to make sure he captures something cool that all of your clients, family, and friends will think is awesome!
John is based in the Rio Grande Valley in deep South Texas (4 hours south of San Antonio, TX) but is ready to hop on a plane, or drive wherever he is needed.
Drop John a line and see what magic he can work for you.